Accessibility Quick Links
Powerful platforms and tools to support you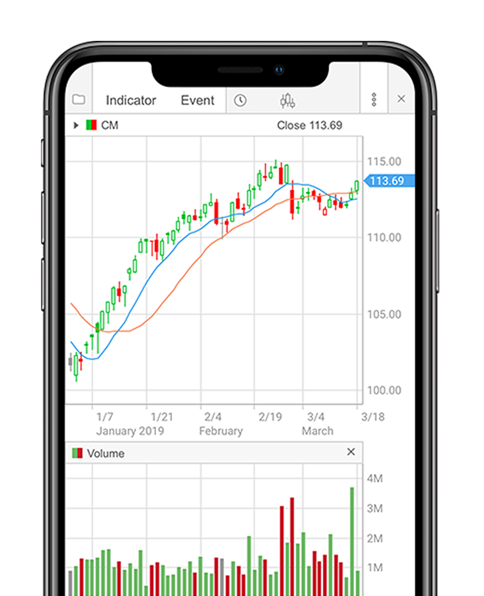 Whether you're a new or experienced trader, our powerful platforms are simple to use and provide you with extensive tools and resources.

Trade equities, ETFs, options, mutual funds and more

Stay on top of the markets with our library of research and insights from industry leaders

Set up Watch Lists to monitor stocks, and get real-time quotes

Identify trends and analyze stock performance with customizable, interactive charts

On the go? Trade equities, ETFs and options, and monitor and manage your investments with the CIBC Mobile Wealth App
Powerful tools to keep you on track

Screeners
Save your own personalized screeners to filter thousands of investment products by your choice of criteria, including sector, industry, market cap and price change percentage.
You can also take advantage of screeners pre-built by Investor's Edge.

Technical Insight
Search for actionable investment ideas based on Trading Central's Technical Insight tool.
Look up technical events that fit your strategy, validate events with backtesting and execute trades, all from the same Investor's Edge page.

Morning News Call
Getting timely information is important when you're a do-it-yourself investor. Morning News Call from Thomson Reuters delivers the latest market information straight to your inbox.
The daily newsletter displays a range of market and sector-specific subjects, including U.S., European and Asian companies, fixed income, credit, the global economy, emerging markets and corporate finance.
More tools to help you succeed
Advanced charting
Across our online platform, you'll have advanced charting capabilities with numerous indicators and studies that can be customized to your needs.
Trade-fill notifications
For your convenience, you can set up email notifications to confirm when your stock and option orders have been completed.
Alerts
Track price movements, technical events and news announcements, or research changes for the securities that interest you.
Watch Lists
Build up to 20 customizable Watch Lists to track your portfolio and keep an eye on the stocks you're interested in.
Daily Market Report
In this free daily email, you'll receive trade ideas based on technical events detected by Recognia, a global leader in technical analysis.
Regular Investment Plans
Automate your savings by setting up recurring cash transfers from your bank account to your Investor's Edge account.